Mallorca BJJ and Yoga festival is a festival that brings together 2 different practices with numerous variations, concepts, and philosophies within them. Let's meet the world class instructors joining the festival and the event organizers.
YOGA INSTRUCTOR LIST
(MORE To be confirmed)

RYT 500 Yoga Alliance Teacher
500 Vinyasa Teacher (India/ Goa)
400 Sivananda Teacher (Kitzbühel/ Austria)
300 Jivamukti Teacher (USA/ New York)
Group Fintess Instructor

BJJ Instructor List
(more to be confirmed)
ADCC European Trials Champion (2018)
Notable wins over the likes of Nathan Orchard and Gianni Grippo.
IBJJF British No-Gi National Champion (2017)
Welsh Invitational Champion (2017)
Grapple Nation Champion (2015)
Grapple 4 Glory Champion (2015)
IBJJF London Winter Open Champion (2017)
IBJJF British No-Gi Nationals 2nd Place (2016)
UAEJJF Grand Slam LDN 3rd Place (2016/2017)
IBJJF World No-Gi Champion (2018 Black)
IBJJF Dublin Open Champion (2018)
UAEJJF Spain National Pro Champion (2018)
IBJJF World Champion GI (2018 Brown)
IBJJF World No-Gi Champion (2016 Purple)
IBJJF European Open Champion (2015 Blue, 2016 purple)
IBJJF European No-Gi Champion (2018 Brown)
ADCC European Trials Champion (2017)
IBJJF World Championship 2nd Place (2016/2017 Purple)
UAEJJF Abu Dhabi Pro 2nd Place (2018 Brown)
IBJJF European Open 2nd Place (2018 Brown)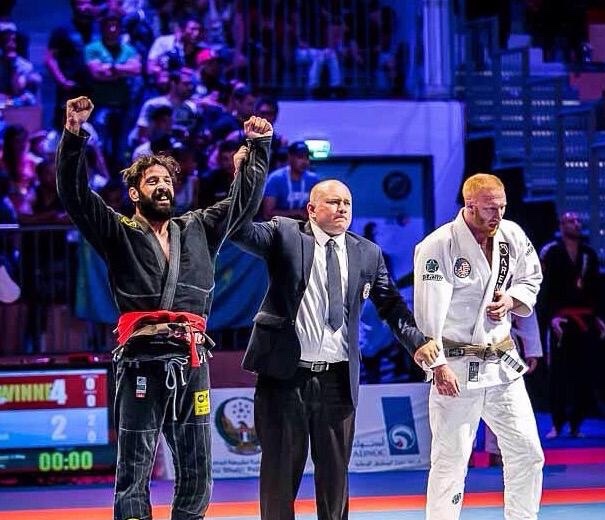 From Team Nogueria Dubai
IBJJF Europeans Brown Champion (2016 Brown)
Abu Dhabi World Pro Champion (2015 Brown)
Abu Dhabi World Pro Champion (2013 Purple)
Other Instructors
(MORE To be confirmed)
Hi! I am Tim and I am a biodynamic breathwork & trauma release coach, yoga teacher and NLP Master. About 10 years ago, a synchronistic event happened and I picked up a hitchhiker in Australia who wanted to be dropped off at a Vipassana meditation center. This immediately triggered my interest and from then on I learned about the power of meditation and entered on my own spiritual journey.
But simultaneously, I had a strong interest in business and entrepreneurship. After receiving my Bachelors Degree in International Business and Management studies, during which I already started my first two start-ups, I did my Masters Degree in Entrepreneurship and Innovation Management in Stockholm. I became obsessed with nutrition and its importance for the human body. I became my own research subject and started to learn everything regarding nutrition, trying diets, supplements and fasting. This culminated in founding another health food start-up.
I moved to Switzerland where I realised that my entrepreneurial and my spiritual side where two puzzle pieces that beautifully fitted together and I entered the swiss corporate world, while at the same time becoming a Holistic Yoga Teacher and following my spiritual calling. Over the past years, breathwork has become the major focus of my work and I am currently expanding my practice to become a Kundalini Yoga teacher and a certified Wim Hof Method Instructor. I am fascinated by the power of breathing and its potential to change people's lives.
DJ LIST
(More To Be Confirmed)
Lebanese-born and Spanish-bred Mario Bazouri grew up listening to everything from Michael Jackson to George Michael to Prince. Making a move to Dubai, he helped define the club scene by organizing and promoting "DEEP NIGHTS" that welcomed Danny Tenaglia, Armand Van Helden, John Digweed, Erick Morillo and many more to the city.
Today, as a DJ & Producer Mario has become a frequent player in some of Dubais finest underground parties, earning himself a residency in Disconekt Dubai, Blue Marlin Ibiza UAE & The Hatch.
Inspired by Dixon, Trikk, Denis Horvat, Santiago Garcia, Fideles, &ME, Rampa and Patrice Baumel just to name a few, his sound is shot through with a rock-solid groove that consists of infectious percussions, Ethnic vibes and dark melodic synths. Music Production came next where he has previously signed to Voyeur Music/ Baroque Records/ Natura Viva/ Deeplomatic Recordings/ Soul Division Music. Putting lots of focus on his productions, he is expecting quite a few new releases till end of the year on Exotic Refreshment & on Voyeur Music.
During his career behind the decks, he's warmed-up and shared the decks with many International Underground Talents.
Mallorca BJJ & Yoga FestiVAL ORGANISERS
Joe Notebaert- Event Manager/Bookings/ BJJ INSTRUCTOR
Originally from Phoenix Arizona, I now live in Mallorca following a 10 year stint in London England. In London I trained at Roger Gracie Academy and shortly after winning my 2nd IBJJF World Championship at Brown belt Masters I received my black belt from Cesar Lima under the approval of Roger Gracie.
I am also a director of a travel agency and I decided to combine my love of travel and my travel planning experience with my love for BJJ by launching the Mallorca BJJ & Yoga Festival
-Head instructor at Mallorca BJJ, El Toro Mallorca https://www.mallorcabjj.com/
-BJJ Black Belt
- IBJJF World Master Brown Belt Champion (2017) purple (2013)
Jack Clover - Event Manager/ orginiser/ YOGA INSTRUCTOR
To me, yoga is a source of peace, grounding and inspiration every day.It forms a repair station for the body and mind, using ancient tools that can be applied to modern living.
I began training BJJ in 2008 along with Muay Thai, Traditional boxing and Judo. After dipping my toes into MMA, I realised I sought a different path in my practice and came across Yoga in 2012. I soon realised Yoga would challenge me and enrich my life in as many ways Jiujitsu had, and from that point there was no turning back!
I left London to qualify as a Yoga teacher in 2016. Since then I have spent 2 years travelling, teaching and practising Yoga and BJJ in many countries around the world, I now reside in Berlin. These two forms work together so well on many levels and I would love others to experience this combination at Mallorca BJJ and Yoga Festival.
- RYT 200 Yoga Alliance Teacher
- Purple belt Brazilian Jiu Jitsu @yogi.jitsu
- Former Event and Project Manager; for London Design Festival and multiple entertainment brands.